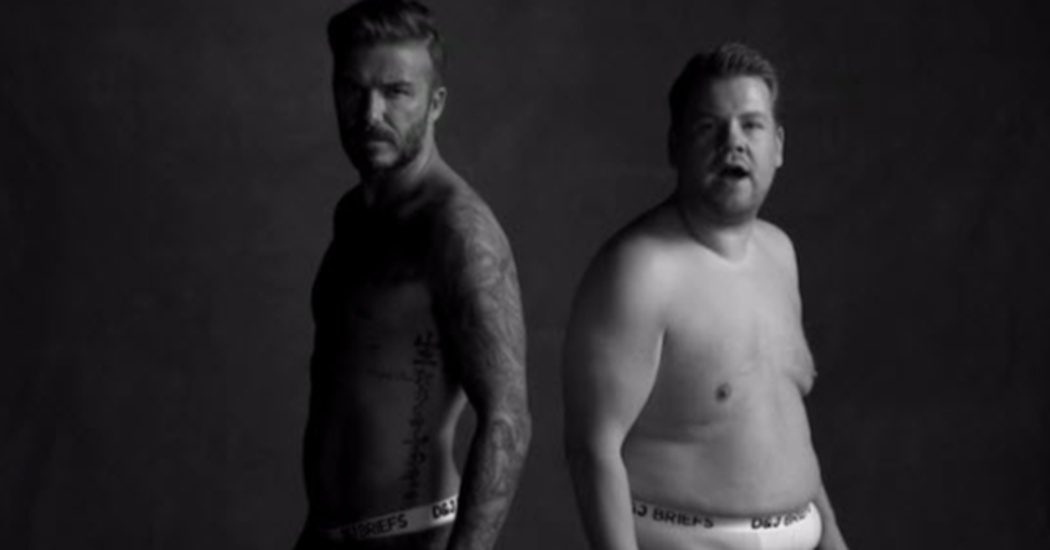 Most of us are familiar with David Beckham. He is known globally, not only because of his former career as a pro footballer, he is also married to Posh, one of the spice girls. Something else that we may think about when we think of Beckham is underwear. After all, he has his one line and has done quite well with them. That is what makes this spoof ad so funny.
David Beckham joins forces with James Corden and they walk out on camera wearing nothing but some underpants. Of course, when you see Corden standing alongside the chiseled body of Beckham, it may make you wonder exactly what is going on. As it turns out, it is all in good fun and you can't help but laugh as it starts to unfold in front of you.
David Beckham is perhaps one of the better known international sports stars, as he was an English professional footballer for a number of years. During the time that he was a footballer, he held some records and won a number of trophies. He is still active in sports but he also has a number of other activities he is well known for, including his underwear line. I suppose you could add comedian to his list of things he does as well, because you would have to be a funny man to stand up with James Corden on late night TV with this type of an ad. We are glad he did, however, because it gives us the chance to laugh.
Although we are certainly familiar with Beckham for some reason or another, James Corden is also quite well known for his late night show. You have to really give it to him to stand out there with Beckham in his underwear. Somehow or another, Corden is able to pull it off, don't you think?